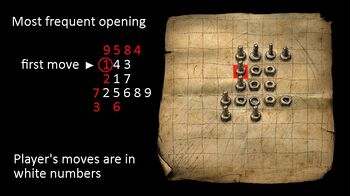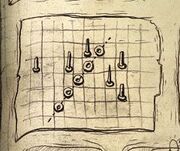 The Pub Gomoku Puzzle (or Five-in-a-row Puzzle) is a Mini-game that has to be solved.

Level - 12. Pub and Card Room (level)
Location
At the game table in the pub.
Activation
Josef must sit on the stool opposite the Pub Game Player and accept a game challenge; the mini-game will then appear on the screen.
Description
Gomoku is similar to noughts and crosses (or oxo) but the player must get five-in-a-row in any direction to win.
Task
The player must beat the Pub Game Player at the Gomoku game.
Solution
There are many random game starts and it is not possible to include every possible winning solution.
There is however a game that comes up quite frequently and a solution for this game is given here.
See the image 'Most frequent opening'. If the game conforms from move 1 to move 3 the game is already won, just carry on following the instructions.
Reward