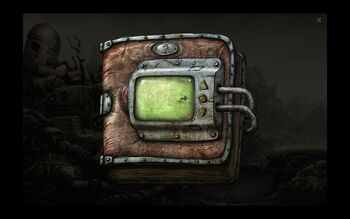 The Game Walkthrough Function is available on the in-game screen.

If the player should become stuck on a level there is a function which will give a hint for each level of the game - see: Game Hint Function
However; if the player is really stuck and at a loss on what to do, there is a walkthrough book that can be consulted in-game on the game screen.
To the far right of the Inventory at the top of the game screen there is a small book icon representing the walkthrough book. If this book icon is clicked the game walkthrough book will appear on screen. On the front of the book is a lock which has a number of buttons and a small screen. To unlock the book the player will have to play and successfully complete the 'Spiders Puzzle' on the small screen.
The game walkthrough book is written in the form of a number of small sketches like a storyboard. The storyboard will explain to the player how to complete the current level and move on to the next level.
There is a walkthrough page for every level in the game.
The Game Walkthrough Function should only be used if the player is really at a loss on how to proceed in the game.
Note: the Levels 17. Wall - middle (level) and 19. Wall - base (level) share the same walkthrough page but have different hints in the Game Hint Function.