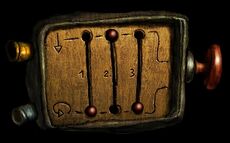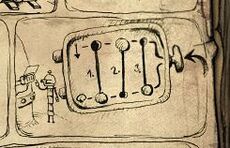 The Furnace Hoist Puzzle (or Three Sliders Puzzle) is a Mini-game that has to be solved.

Level - 4. Furnace Room (level)
Location
The hoist control panel on the right side of the furnace.
Activation
Josef must first press the red button located on the center of the furnace, he must then stand next to the hoist control panel and click the panel; the Mini-game will then appear on screen.
Note: Josef does not have to extend himself to reach the control panel.
Description
A control panel with three sliding buttons and a large red button on the right that will start the furnace hoist grab.
Task
To find the right position for the three sliding buttons by trial and error. There are arrow indicators on the panel that will give some idea of the buttons correct positions.
Solution
Left button at the bottom. Middle button at the top. Right button at the bottom.
Reward
Josef will be able to use the furnace hoist grab to lift himself up and onto the small platform above the mine cart door.