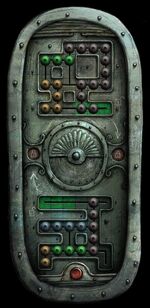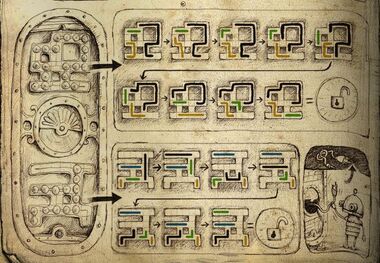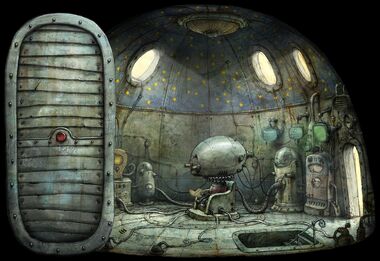 The Castle Safe Puzzle (or Sliding Chains Puzzle) is a Mini-game that has to be solved.

Level - 28. Castle (level)
Location
The blue coloured metal safe on the far left side of the Castle room.
Activation
Click on the blue coloured metal safe and the safe will become magnified. Click on the red button on the front and the sliding metal shutters will open showing the mini-game.
Description
The safe is a blue coloured tall narrow metal box with sliding metal shutters with a red activation button in the centre. Inside the shutters is an inner safe with a metal half circle revolving door. This inner safe has two code combination locks consisting of sliding chains puzzles. In each puzzle there are a number of chains of different coloured beads that will have to be moved along tracks.
Task
Both of the sliding chains puzzles will have to be solved, to open the central half circle door of the inner safe. The chain of three green beads will have to be moved to the green area of the tracks in both puzzles.
Solution
Upper orange (up 1)
Lower orange (right 1)
Left green (down 1)
Upper grey (down 2)
Lower orange (right 1)
Upper orange (right 1)
Lower grey (down 1)
Lower green (down 1)
Upper grey (left 1)
Lower orange (right 3)
Lower green (right 2)
Upper grey (left 1) (down 1)
Right green (right 1)
Left orange (up 1)
Right green (down 1)
Upper orange (up 1) (left 1)
Lower green (down 1) (right 2)
Upper grey (left 4)
Right green (right 1) (up 3)
Upper orange (right 5) (down 1)
Lower green (down 1) (left 4) (down 1)
Right grey (down 4) (left 2) (up 1)
Right blue (right 1) (up 2) (right 4)
Right grey (up 3) (right 1)
Right green (right 1) (up 2) (left 2)
Lower grey (down 1) (left 4) (down 1)
Right green (right 2) (up 2) (right 1)
Right grey (right 1) (up 2) (left 2) (down 2) (left 2) (down 1)
Lower green (down 3) (left 1)
Right blue (right 1) (down 2) (left 4)
Upper green (up 3) (left 4)
Reward